In early May I completed a survey from
BuzzBack
regarding the use of
PayPal
as a payment option. Around the middle of the month I received an email thanking me for completing the survey and that they enjoyed looking over the responses all the respondents gave. Ultimately they decided that they will be switching over to
PayPal
instead of checks. They believe it is a better option than check since payments will be safer for the environment, more secure, and less time consuming.
I honestly think this change is for the better, in the past it took about 4-6 weeks to receive my check for one survey. The day after I completed a survey from
BuzzzBack
I received payment via
PayPal
, when I saw the email stating that I had received a payment from BuzzBack I was excited. Below you can view my first
PayPal
payment from BuzzBack: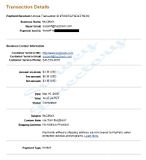 I know a lot of survey takers will agree that this payment method will be faster and more convenient, not only for the panelists but for
BuzzBack
as well. If you are a member of
BuzzBack
, what do you think of this new payment method? Do you like it or would you rather get a check in the mail? And for those of you who aren't members, does this change make you more likely to join
BuzzBack
or less likely?